17 Hours Ago
Proscoutdan




Join Date: Jul 2011 • Posts: 498

Likes Received: 8 • Likes Given: 1

Favorite Teams:

Draft Rewind 2011 - Danny Watkins - Philadelphia Eagles
---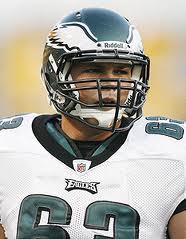 What Ourlads NFL Scouting Services said about
DANNY WATKINS
: Baylor, 6034 312 5.37. Two-year starter at left tackle. Transfer from Butte (CA) Junior College. Will be a 26-year old rookie. In his previous life he was a firefighter for four years before entering college. Physical in his play. Goes to the whistle. Plays square. Can lockout, sit down, and anchor a bull rush. Gets movement on double teams. Moves his feet on contact. A power player with good feet and follow through in the run game. Maintains a good base. Will collide with linebacker's ear hole at times on the second level. Sometimes looks old school with his fire, fit, and follow through on base run blocks. Plays with maturity and violence in his hands. When he locks on a breast plate the pass rush is over. Big strong hands and long arms. Controls and drives defender in the run game. Mentally tough. Plays the game with attitude and aggression. Solid lower body with flexibility and power. A Canadian who is still learning the game. OSR:33/49. Second/ third round. (A-33 3/4, H-10 1/8, BP-29, 10-1.84).
Article Courtesy of Ourlads.com